By Ken Wong | 7 years ago | 0 comments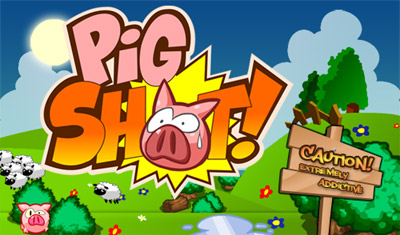 We've been working really hard alongside Sven Magnus (from Mudloop) in the past few months to introduce a major update for our much celebrated pig rolling game Pig Shot. We're delighted to announce that the update has finally completed and we hope that the new features that we've included will further enhance the pig rolling experience for the 760,000 players we have to date!
The update will be submitted within a few days (pending Localization).
Here are some of the new features that we've included in patch v1.1.0. Despite the major update on the game, the price point of Pig Shot will remain unchanged at $0.99.
New Features in version 1.1.0:
• Game Center Leaderboards and Achievements
• 'Retina Display' graphics
• Universal App (supports iPhone, iPod Touch & iPad)
• 17 New Achievements to be Unlocked
• Female pig (Maggie) character and character selection screen
• Progressive day & night gameplay
• Leaderboard format for furthest gameplay distance
• New obstacles and powerups
• Interactive sound effect when bump against obstacles
• Setting menu for volume adjustments
• Off game music by default
• Greatly reduced build size
• Fixed minor bugs
Leave a Reply