By Ken Wong | 7 years ago | 0 comments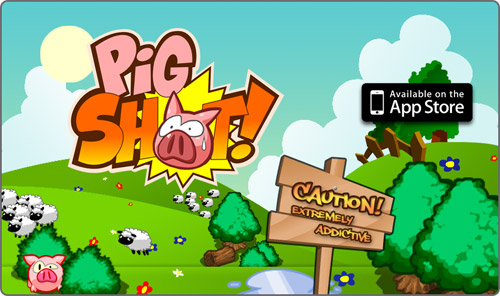 Our latest product Pig Shot has just been released on the App Store. The game offer an EPIC pig-slinging, farting and rolling experience that you can't find elsewhere.
Pig Shot is an incredibly addicting action game where you constantly launch your pig off slingshots before rolling it at high speed through a challenging trail that is filled with random obstacles. Collect cauliflower to accumulate gas and make your pig fart for a temporary speed boost. There are over a dozen of achievements such as 'Constipated Pig' to be unlocked in the game and you can check your standing on the OpenFeint leaderboard. You can even send an email highscore challenge your friends.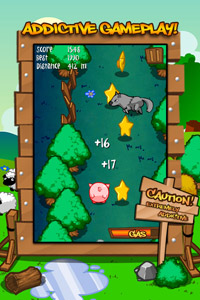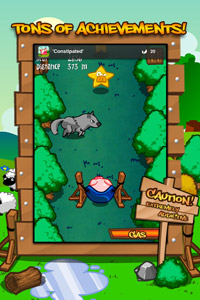 Quotes from TouchArcade.com members:
– "More fun than bowling with your pet pig!"
– "The constipated achievement is the best thing ever. Hahahaha!"
– "It is a very fun and quite unique pick up and play type game, which always makes the player go for a higher score"
– "The game plays perfect and is really fun! I'd say you have another hit on your hands"
– "Another great pick up and play game from Mudloop. Because when pigs dont fly, they roll!"
FEATURES:
– A farting pig that rolls between obstacles
– Wandering farm sheep obstructing your path
– Completely random environment & obstacles
– Local and OpenFeint Global leaderboard
– Dozens of OpenFeint achievements to be unlocked
– Challenge friends highscore via email
– iOS4 multitasking supported
HOW TO PLAY:
Pull and release the slingshot to launch the pig. Tilt to steer the pig through obstacles. Grab cauliflower to accumulate gas and tap anywhere on the screen to make your pig fart for a temporary speed boost.
UPCOMING FEATURES:
– Universal app (iPhone 4, iPad)
– Game Center (Achievement & Highscore)
– 'Retina Display' graphics
– Tons of pig addon
– Progressive level environment
– More obstacles
– Facebook & Twitter highscore challenges
Developed and published by Nexx Studio. Original creation of Mudloop.

Leave a Reply