By Ken Wong | 9 years ago | 0 comments
Today marks the first week of Photo Spot's presence in the Apple App Store around the world. We've received positive reviews from blogs and forums. In addition to that, we've also gathered a wide range of feedbacks from the early adopters. Most of the request made are "multiplayer gameplay" that we've planned earlier and more gameplay picture which we're introducing soon enough!
The following stats will show you how we currently stand in the global App Store against our competitors and how far are we from our goal.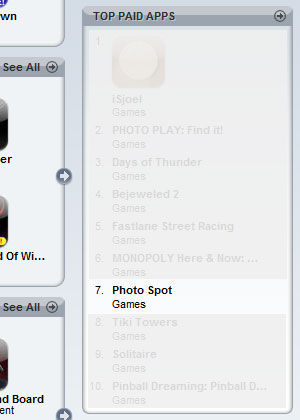 U.S. App Store
#34 Best Selling Puzzle Games
#19 Best Selling Family Games
Netherlands App Store
#13 Best Selling Apps
#7   Best Selling Games
#3   Best Selling Puzzle Games
#3   Best Selling Family Games
Hong Kong App Store
#55 Best Selling Apps
#35 Best Selling Games
#10 Best Selling Puzzle Games
#3   Best Selling Family Games
Singapore App Store
#31 Best Selling Games
#13 Best Selling Puzzle Games
#4   Best Selling Family Games
Canada App Store
#52 Best Selling Puzzle Games
#29 Best Selling Family Games
U.K. App Store
#46 Best Selling Family Games
Leave a Reply