By Ken Wong | 5 years ago | 0 comments
We are delighted to announce that Glow Puzzle (iPhone), Pig Shot (Universal) and The Idiot Test 3 (iPhone) will go Free for the week to celebrate App Store's 5th Anniversary. These 3 games (normally available for $0.99) are among our most popular iOS games app and they as a whole accounts for over 12.5 million downloads to date.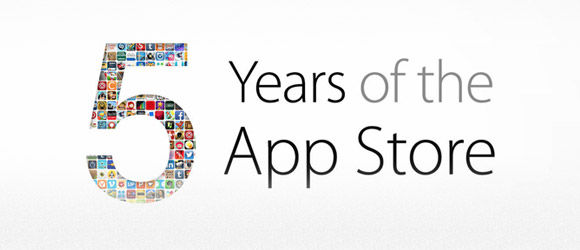 Apple is also making 10 other popular iOS apps and games free for a limited time to celebrating the occasion.
Games: BADLAND (Universal), Infinity Blade II (Universal), Superbrothers: Sword & Sworcery EP (Universal), Tiny Wings(iPhone), Tiny Wings HD (iPad), Where's My Water? (Universal)
Apps: Barefoot World Atlas (Universal), Day One (Journal / Diary) (Universal), How to Cook Everything (Universal), Over (Universal), Traktor DJ for iPhone (iPhone), Traktor DJ (iPad)
Hope you will enjoy these games and apps that Apple is giving away. Happy Birthday App Store!
By Ken Wong | 5 years ago | 2 comments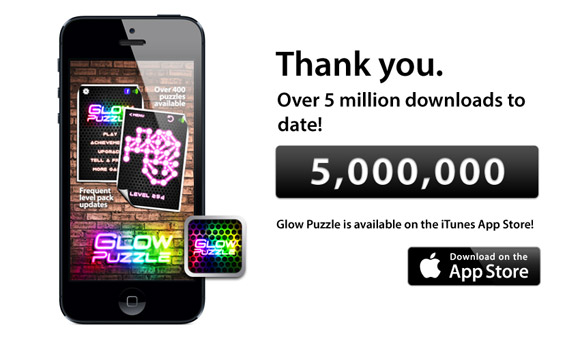 We would like to announce that Glow Puzzle has surpassed 5 million downloads marks on iTunes App Store. The game previously hit 1 million downloads just 10 days after it's initial release.
To thank the fans for such milestone, we are releasing a new update v2.1 which includes 60 new levels and several other changes. The update has already been approved and it is now available on the App Store.
We are scheduled to release 2 more titles in the second quarter of 2013. Stay tuned for further announcement.
Press Kit: Link
(Screenshots and other resources in various sizes and resolution can be retrieved from the press kit)

By Ken Wong | 5 years ago | 0 comments
We are pleased to announced the release of a free version to our successful title The Idiot Test 3. The app will include all of the new features in the recent update to the original release such as the iPhone 5 support, iOS 6 compatibility, Retina Display graphic, Game Center leaderboards, social network integration and much more. Remember to spread the words with your friends and get a copy of the latest The Idiot Test 3 Free today.

Press Kit:
http://www.nexxstudio.com/images/idiottest3/presskit.zip
By Ken Wong | 5 years ago | 0 comments
We are pleased to announced the release of Glow Puzzle v2.0. Over dozens of new features and 100s of new level since our initial release. The free version of the game have been downloaded over 4.9 million times since it's initial release. We will continue to deliver more contents to this game in the next few updates.
Check out the game on the App Store via the link below and we hope you will enjoy playing yet another release by Nexx Studio.

By Ken Wong | 5 years ago | 0 comments
We're proud to announce that our hit puzzle game Glow Puzzle just received a major updates after over 4.4 million downloads since it's introduction. The neon themed puzzler is now optimized for the new iPhone 5 and iPod Touch and other implementation includes an automated iCloud progress synchronization, more levels, Game Center achievements, theme color selection option and much more.

We've came a long way since our 1 million downloads milestone (achieved just 10 days after the launch). To celebrate the 4.4 millionth downloads and the introduction of this update, player will be able to unlock Level Pack 2 without Level Pack 1 (previously tiered) for a limited time and this will grant user access to all puzzles.
Disclaimer: Level Pack 2 owner will gain all access throughout the game. This changes will apply to users who have previously purchased them as well and will remain even after the promotion is over.

Other changes to the game are listed in the changelog below
Changes in version 1.2.0:
• Added 40 new levels (Up to 300 puzzles available)
• Added 22 Game Center achievements
• Added iPhone 5 'Retina Display' support and iOS 6 compatibility
• Added automated iCloud progress sync across multiple devices
• Added theme color selection
• Added option to reset game progress
• Added restore purchases button
• Added iPod background music support
• Level Pack 1 & 2 are now combined so you will only have to pay once to unlock all the extra levels

Press Kit:
http://www.nexxstudio.com/images/glowpuzzle/presskit.zip
Update for existing users: Some users are reportedly experiencing lost of level progress after updating to the latest v1.2.0. Your level progress will be recovered again after with the latest update v1.2.1 but it won't be available until the App Review team is back from the holiday break on 2nd January 2013. We advice you to ignore the update v1.2.0 unless you're willing to proceed with the lost of progress over the next 2 weeks. Stay tuned for further update on the issue and we're truly sorry for any inconveniences caused.

By Ken Wong | 6 years ago | 2 comments
We're almost done with v1.2.0. Here is a list of the changes that will be coming very soon!
By Ken Wong | 6 years ago | 0 comments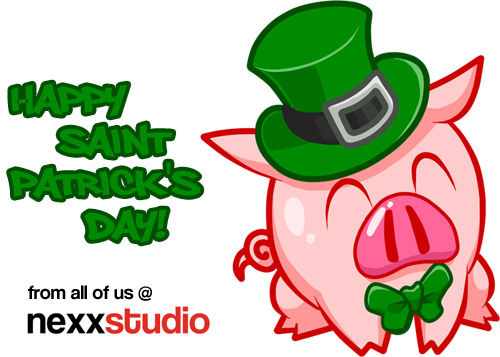 We hope you guys enjoyed St. Patrick's Day last weekend. We have some announcement for both Pig Shot and Glow Puzzle some time next week. Stay tuned.
By Ken Wong | 6 years ago | 0 comments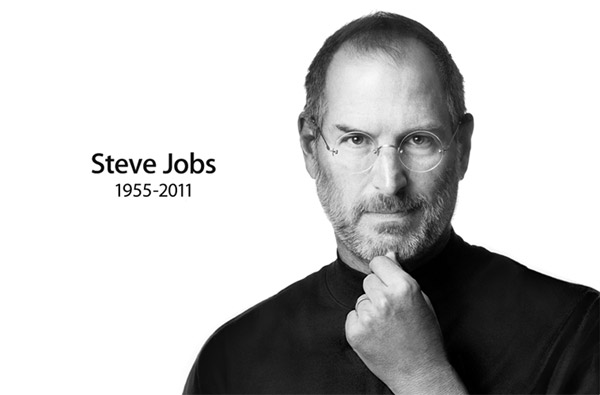 Steve Jobs' invention is what led to the establishment of this company. He will always be our inspiration.
1955 – 2011
By Ken Wong | 7 years ago | 0 comments

Nexx Studio is did a Father's Day sales (50% OFF) for Pig Shot and it will be extended for a limited time. Is $0.99 still too costly for an app with over 2 million players and average of 4 & 1/2 star rating with over 710 votes?
Don't worry! We try to cater for everyone but on a limited basis. We're posting 1 promotional code to Pig Shot on it's Facebook fanpage for every 3 Likes we get. Like the fanpage if you haven't do so and remember to tell your friends & families to Like the page too so more promo codes will be posted out. Once you're done, just watch out for the promotional codes on your Facebook news feed.
Disclaimer: We will continue the giveaway for as long as we have promotional code in place. There are still 45 to be given away!
Facebook Fanpage

By Ken Wong | 7 years ago | 0 comments
We've identified the crash issue that are affecting users with iOS 3.x and older in the recent update v1.1.1 for Pig Shot. Update v1.1.2 has been submitted to address the problem and it's currently pending review by Apple. Thank you for your patience as we work to resolve this issue.
Ps. We will be extending the Pig Shot free promo for the time being.
Follow Pig Shot's official Facebook Fanpage to get the latest news about game.
http://www.facebook.com/pigshot