By Ken Wong | 7 years ago | 0 comments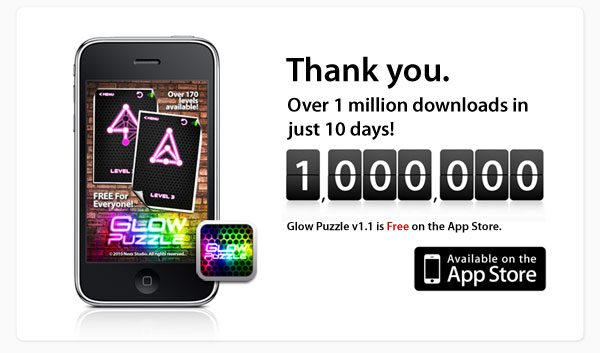 Milestone
We are delighted to announce that Glow Puzzle broke over 1 million downloads in just 10 days and has already exceeded 1.6 million downloads as of now.
Latest changes
Our first major patch (v1.1.0) has been approved and released today. This patch features over 60 new and more difficult levels in level pack 2. These levels are completely free for user who has already own a copy of the Level Pack 2. We received a large amount of user requesting for more free levels and for that we decided to unlock 5 more levels for free users so you don't have to spend money to have fun.
A double validation process was introduced in this patch to help users on older iOS (3.0) that were having trouble downloading additional Level Packs. Since not all of the retina display graphics are finished in this patch, we still decided to include the Hi-Res icon so users on iPhone 4 and iPad so Glow Puzzle will fit perfectly in your device along with other HQ apps that you have in your collection.
Release Summary
– 60 new levels for Level Pack 2 (Up to 230 levels available)
– Improved In App validation
– 5 more levels unlocked for free users (By popular demand)
– HQ icons for iPhone 4 and iPad
– Improved game summary
Thank you for playing Glow Puzzle!!!!!

Leave a Reply