By Ken Wong | 8 years ago | 2 comments
Nexx Studio is doing a MEGA contest in event of Pig Shot's launch and prizes worth over $682 are up for grab! There are a total of 17 iTunes Gift Card $15, the new line of iPod (iPod Shuffle, iPod Nano and iPod Touch) up for grab!
Contest #1 – Social bug
What to Win?
14x $15 iTunes Gift Card (one random winner daily)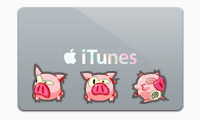 How to Participate
Step 1: Proceed to our Facebook fanpage "like" it.
Step 2: Follow @nexxstudio on Twitter.
Step 3:
Retweet the following post through @nexxstudio
Pig Shot is now available on the #AppStore. Experience an EPIC Pig-Slinging Madness on your #iPhone – http://bit.ly/9BSj6j – #PigShot
Contest #2 – Play and Win [iTunes Gift Card & iPod]
What to Win?
Week 1 – iTunes Gift Card $25
Week 2 – iPod shuffle 2GB
Week 3 – iPod nano 8GB
Week 4 (Overall) – iPod touch 8GB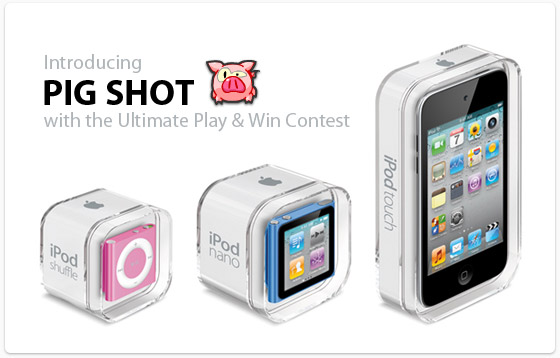 How to Participate
You wlil have to play Pig Shot and submit your scores to OpenFeint. The top scorer in the weekly highscore chart (Week 1 – 3) will win the prizes listed above. Overall top scorer will be announced on Week 4. You just have to keep playing to win.
Rules
– Winners from Week 1 to Week 3 will not qualify subsequent week except for Week 4, even if they lead the highscore chart for 3 consecutive week. Eg: If you win something on Week 1, you will not qualify for Week 2 & 3 but your score will still qualify for Overall Contest.
– If the winner is disqualified or fail to respond 2 week after the initial contact, the next rank will then qualify for the prize.
– If all 3 placing are disqualified, the prizes will then be snowballed and be added to Week 4's prize pool (sorted by highest value). Eg: If Week 3's prize snowball, the #2 Overall Top Scorer will win the iPod Nano.
– All winners will be contacted via OpenFeint IM.
General Rules
– Open to legal US residents of the 50 United States and the District of Columbia who are 18 and older.
– All prizes will be shipped within 2 weeks after the winners are announced.
– All iPod type gifts will be laser engraved with Nexx Studio / Pig Shot branding.
– If a potential winner fails to response within the required time period, he/she will be disqualified and the prize will be snowballed for the week after.
– We reserve the right to change the terms and condition at given time.

Disclaimer: Apple is not a sponsor or involved in this contest in any manner.
Brought to you by Nexx Studio.
2 Comments
so far
Leave a Reply